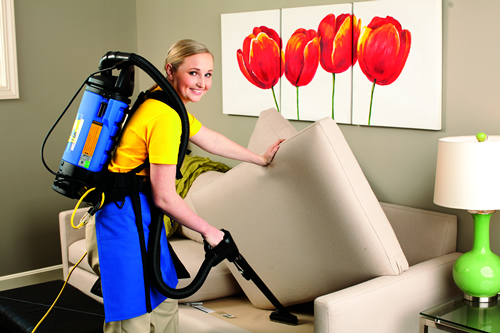 Stains on couches happen. In fact, your entire living room furniture is a magnet for stains, dirt and allergens. Think about it: spills, pets' hair, dust is absorbed by the couch and you don't even notice it! It not just unappealing, it is also not healthy for you and your family. Yur couch may slowly become a huge source of allergens and microorganisms that may cause some health troubles for your children and pets. 
So to easily clean you couch, you should not hire an expensive cleaning company or break your back trying to wash it all off. There are 6 simple, yet very effective ways to remove stains from your couch in a very natural way. 
1. Soda + Powder = Clean Couch 
Mix 3 tablespoons baking powder and one tablespoon club soda. Then, use a towel/cloth and rub the mixture over the stain you should see the stain starting to come off. Let it soak in for 2 minutes and after that wet a cloth and drain the excess and wipe down the sofa.
2. Baby Wipes are Not Only for Babies
On a microfiber sofa, which is said to be the easiest sofa to remove stains from, use baby wipes and wipe the stained area until the stain start to loosen. Cool, huh?
3. Alcohol!
If you are a lucky owner of a suede sofa, use some denatured alcohol and let it sit . However, suede is a very sensitive material so before you do anything to it, test a hidden area first to prevent discoloration. By the way,  there is a difference between microfiber and micro-suede sofas, so they must be treated differently.  
4. How About Good Ol' Washing Machine?
A cotton sofa can easily be cleaned by throwing cushions  into the washing machine. I would not suggest using dryer though as it may shrink material. Make sure the water is not very soapy and wipe down your sofa to remove the stain. After you have done this, grab a fresh cloth with warm water and re-wipe the area.
5. Ewww… Pee Stains
Oops, your furry friend just went pee all over your sofa. What now? Leave it to dry, and then add some vinegar and water. You can also sprinkle some baking soda on the spot to take care of the smell as well.
6. Bye-bye ink stains!
Doing homework on your sofa, balancing the books, whatever it is... and the ink from your pen leaks onto your sofa. You think your sofa is ruined forever. We all think "Ink does not come out!" How do you get ink out?! Before you throw out your sofa, resent it, etc. use this natural stain remover tip.
TIP: Remember, never rub in an ink stain, it will only make it worse!
-Step 1: Spray hairspray onto a towel and then blot the stain, redo this with a dry towel
-Step 2: Next, using a clean towel add isopropyl rubbing alcohol. BLOT the ink stain and then dry with a towel
-Step3: Then use a clean towel and apply nail polish remover to the stain(please test sofa area first)
It is even more interensting that the same priciples are often can be applied to carpet cleaning. Although, it requires a slightly diferent approach and appliances. Follow us for the next blog post on carpet cleaning.